By Cool Lefty Electrobrains,
Posted by Sir Max on November 27, 2015 12:00 AM
AND THEY'RE OFF!
The clock just struck midnight, and the Black Friday sales have officially begun! In fact, I even took a couple of the Jellybeans from our Thanksgiving Feast and scooped them straight into my jellybean jar. Crazy? No - inventive!
Clarabelle Cow is at it again, providing whopping deals on all items in her Cattlelog. All Cattlelogs delivered before
December 3rd at 11:59PM Toontown Time
will get a special issue with a week-long sale of 25% off every item.
That means whenever you get your next issue, whether it be today or next Thursday, you'll be able to get your gloves on those sweet deals for an entire week. There's no better time of the year to go on a shopping spree!
I'd love to stay and chat, but I'm currently in a quite intense wrestling match with another shopper over a platinum set of jewelry. I don't really have anyone to give it to - it's just a
REALLY
good deal! Remember: Aggressive shopping is smart shopping!
By Cool Lefty Electrobrains,
Posted by Professor Prepostera on November 24, 2015 11:00 AM
I say, good day to you fellow Toons! My, my, my, it has been quite nearly two years since I've last reported on my findings of an
ongoing research project of mine at Loony Labs titled
The Grey
. But the phenomena's study has made progress!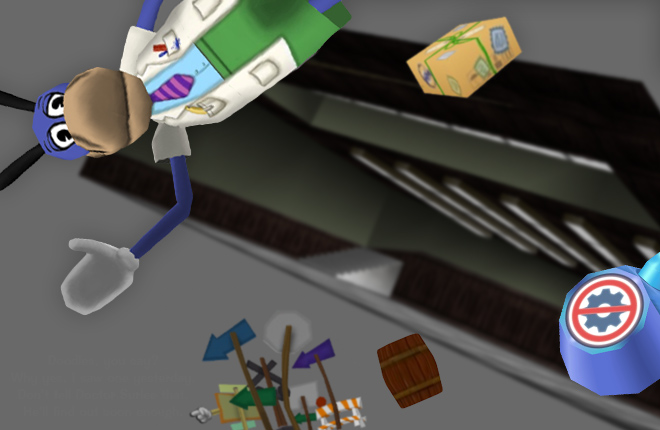 Let us begin the discussion at hand with some background information. You see, despite the natural creative lacking of The Grey,
Toons have used it more increasingly to a much more creative advantage. Especially, much to my intrigue, in Lawbot Headquarters.

In Cog facilities, many Toons have discovered areas that can be reached through the Grey to completely bypass the Cog security that
lies there. An OUTSTANDING creative approach, I might add! A pesky one too, however.

As more and more Toons have abused the antisillions and glitchinitives for their advantage, the Cogs have begun patching the leaks in their
facilities to counter this effort. Likewise, the Toon Resistance Rangers have been reporting increased Cog outputs due to our lack of
defeating them. Luckily, brand new methods of escape have been found in some of the factories to help those who used
the glitches as an alternative to solving certain puzzles!

The Grey's true nature still remains unknown, but the progress being made leads us closer to a discovery. Perhaps we'll have an answer
soon enough -- or in another two years, HAH heh! Heeeeh.

Now, back to my research. Be careful as you traverse the facilities, my friends - the Toon Resistance reports that these Cog
counter-measures shall be rolled out in the coming days.